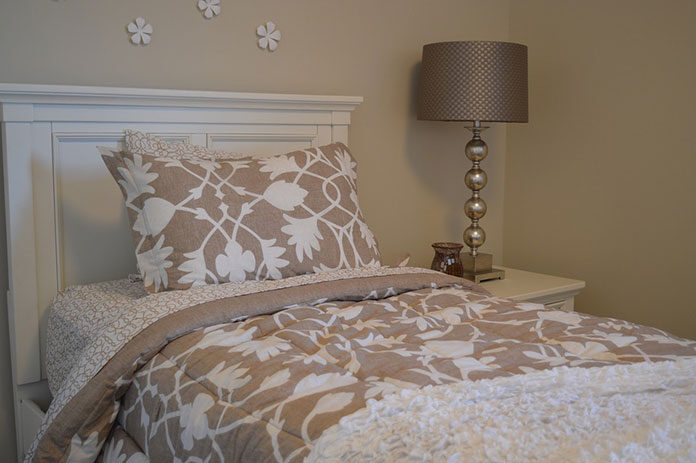 When it comes to choosing the right bed, couples have different needs than singles. First of all, you'll have to agree with your partner upon the size, shape, material, and model of your future bed. Next, you'll need to ensure that both of you are going to enjoy a restful sleep. There are many things to know when choosing your bed as a couple. This article takes a closer look at some of these considerations.
If one of you moves a lot during sleep, the movement of the mattress might prevent the other from getting proper rest. If you don't want the endless moving and rolling of your partner to wake you up in the middle of the night, consider buying a bed with two separate mattresses. This is an also good idea in case one of you wants to sleep on a very firm mattress while the other seeks for softness or for a memory foam solution. In such cases, going for two mattresses instead of a large one will allow each of you to choose their most comfortable option. Although this seems to the ideal solution to please everyone, some people may prefer to avoid it. According to Feng Shui principles, sleeping on separate mattresses may lead to troubles in paradise. If you are a believer in such ideas, you may want to ensure that your bed is in line with the Feng Shui rules for a harmonious life as a couple.
The size of your bed will need to accommodate both of you with ease. If one of the partners is very tall, you'll have to find a bed that suits this person. Similarly, if one or both of you are overweight, you may have to choose a king size bed to be able to enjoy a good night sleep. Always make sure that the bed you want to purchase fits inside your bedroom together with its two nightstands. Overlooking this detail may lead to returning your purchase and asking for a refund.
Moreover, you need to make sure your bed will be solid enough to enable you to enjoy some romantic moments. A squeaky bed may become very annoying for you, as well as for your neighbors who will need to hear those noises each time you're going to make love. A silent and solid bed is a must for any sexually active couple.
Last but not least, you should discuss the shape and the color of your bed, as well as its style. If you love wrought iron beds, but your partner is keen on getting a solid wood bed frame, one of you is going to be sad. If you prefer fitted sheets, but you buy a bed that doesn't allow the use of this linen, you're going to be miserable each, and every time you'll change your bed sheets.
These are the main things to keep in mind when shopping around for the perfect bed for your couple. Pay close attention to all these details, and you'll have an enjoyable time and a restful sleep in your bedroom.